Women Building Futures Announces New Name for Flagship Program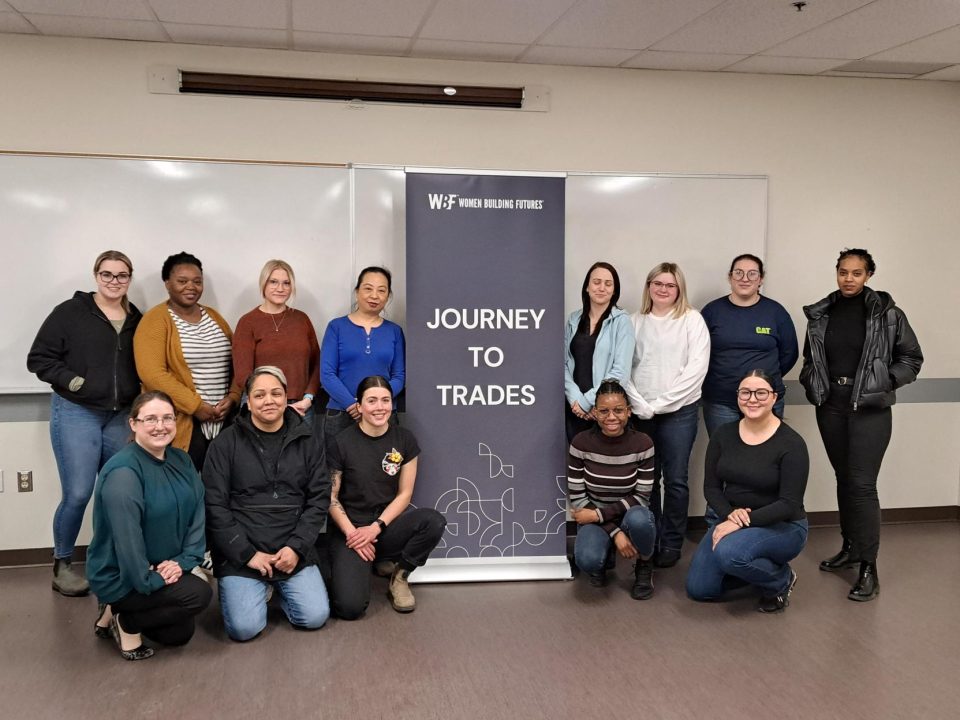 Published On

March 14, 2023
So many people know Women Building Futures (WBF) for our very first program, Journeywoman Start, but aren't familiar with the history.
Our work began 25 years ago by a small group of social workers. They wanted to help capable, single moms who were living in poverty find secure employment so they could better support themselves and their families. The trades offered secure employment that paid well and would set them up for a bright future.  
We borrowed a small space from the City of Edmonton and worked hard to secure funding to run a series of three-week classes of introductory carpentry training. We quickly realized the women were capable of doing more. The program evolved to include hands-on skills training in a variety of trades. It became known as our flagship program, Journeywoman Start. Today the program is offered in Edmonton and Fort McMurray and includes 17 weeks of classroom and hands-on training in welding, carpentry, electrical, plumbing, mechanics, and millwright. The program has helped WBF become a trusted name in our focus industries for introductory training while inspiring more women to explore career opportunities in these areas.  
In recent years, we began to hear from women in the trades that no one referred to them as Journeywomen. At the time, everyone identified as Journeymen, regardless of gender. Was our program name a misfit? 
We started to consider what we could rename this program that is an integral part of our history and our evolution into the organization we are today. We were coming up on our 100th Journeywoman Start class this year and wanted our 101st class to be the very first class with a new name that will take us through the next 25 years.  
We are excited to share the new name for this program: Journey to Trades.  
Journey to Trades honours our past, is not gender specific and speaks to the incredible transformations our students experience during this program.  
Yesterday we welcomed the Journey to Trades 101 cohort at their orientation in Fort McMurray, a region WBF has been engaged with for a long time. Over the next 17 weeks, the students will be introduced to many different experiences. On their journey to trades, they will gain valuable skills for the jobsite, learn about themselves, and gain the confidence to pursue their aspirations in life.