Celebrating 100 Cohorts of Journeywoman Start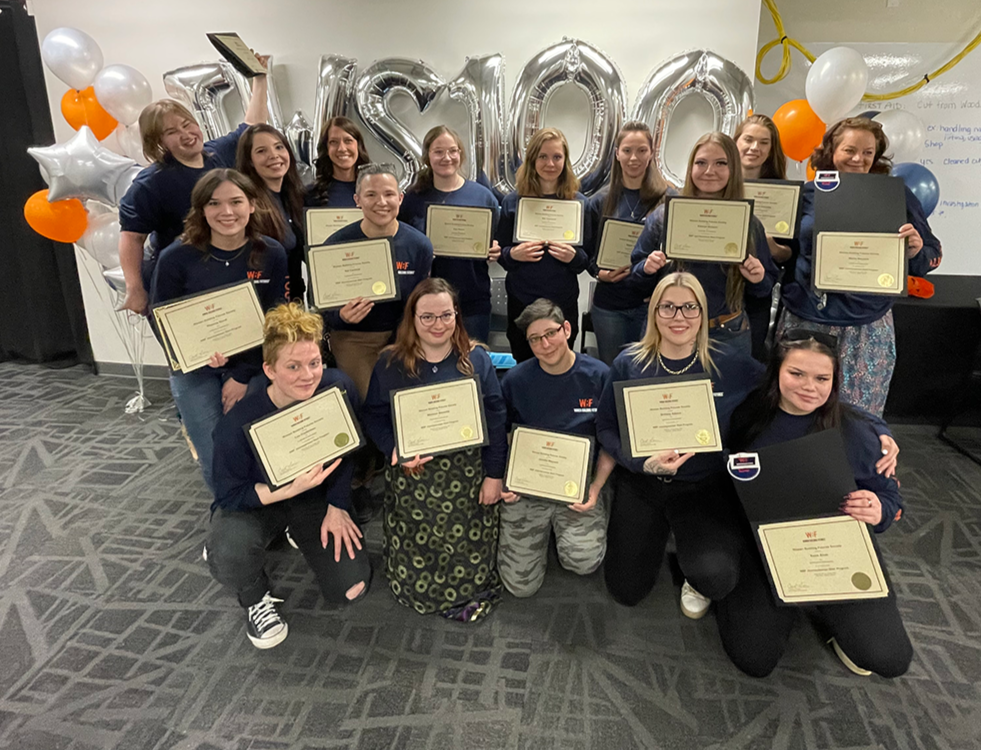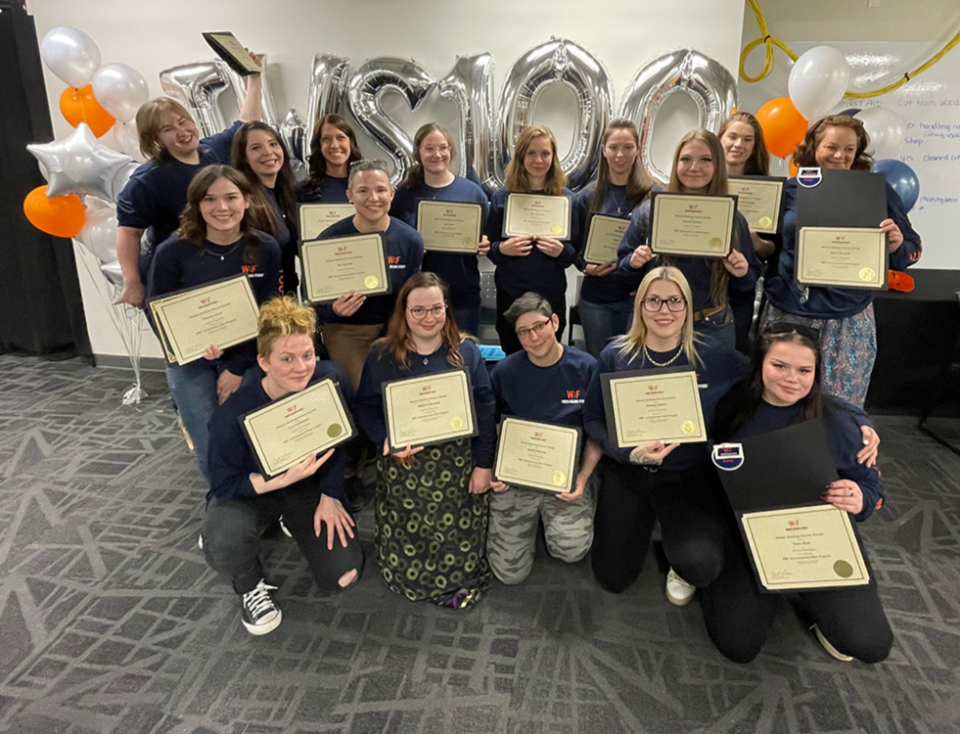 Published On

May 26, 2023
Women Building Futures (WBF) celebrated the graduation of the 100th cohort of our flagship introductory trades program, Journeywoman Start, on Friday, May 19, 2023. On this special day, staff, grads, their families, and alumni gathered to celebrate the 16 women and to reflect on the history and evolution of the program.  
"This celebration is a strong reminder of why it's such a privilege for me to lead this organization and the important work we do," says Carol Moen, President & CEO. 
In 1998, WBF offered its first program—a 3-week introductory carpentry training class—with a mission to foster economic security for women through construction trades training and mentorship. Students were eager to learn, and the program quickly expanded to include hands-on skills training in various trades. Over 25 years, 1224 women have graduated from the Journeywoman Start program. 
Cheyanna, a graduate from the 100th cohort, knew she wanted to work in the trades, but was hesitant to choose a path without fully exploring her options. 
"I always wanted to try welding, plumbing and electrical, so I thought the program would be a great opportunity to dip my toes in and see if I ended up liking any of them." 
Like Cheyanna, other Journeywoman Start applicants often have an idea about what trade they're interested in but aren't set on a path and choose the program for the opportunity to try their hand at a variety of trades.  
In Cheyanna's experience, what she ended up loving wasn't what she expected. 
"In our last week of training, we went on a site visit to the Ironworkers Union. I started the week thinking I was going to become a plumber or an electrician after the program finished. Then we did a workshop during our site visit, and I fell in love with Ironworking! I wasn't expecting to change my mind during the last week of the program." 
Another grad, Julie, was working in healthcare for 9 years but wasn't passionate about it.  
"It wasn't what I wanted long term. I was working at an addiction recovery centre at the time. I remember sitting outside on my break one day, thinking, 'this isn't it.' Then I looked up and saw the Women Building Futures sign on the building next door. It was the first time I really noticed it.  
"That was 2 years ago. I kept putting it off, but WBF was always in the back of my mind. I've always liked hands-on activities but had no basic knowledge of tools. Finally, last summer, I was like, no, I really want this. I'm going for it." 
After 18 years of being out of school, Julie said she was intimidated at the thought of returning to the classroom but taking our Career Exploration workshop and speaking with our Success Coach and our Admissions team helped her take the next steps. 
Looking Forward
Most, if not all, of the Journeywoman Start alumni were either previously unemployed, underemployed, or unfulfilled in their careers and courageously challenged the status quo. In doing so, they broke down barriers for other women to pursue careers in industries where they're underrepresented. The success of these alumni has helped to change industry's perceptions of what women are capable of. 
Over the past 25 years, the program has helped many women find the courage to explore the unknown, challenge the status quo, and find a career that truly fits.  
Our flagship program continues to evolve with WBF as we grow and earlier this year, we gave the program a new name that will take us into the future —Journey to Trades. The name honours our past, is not gender specific, and speaks to the incredible transformations our students experience during the program.  
We're honoured to support the future cohorts of Journey to Trades students on their path to economic security, and are excited to see how our alumni will continue to make a positive impact in their chosen industries.