Cultivating Diverse and Inclusive Workplaces with Employer of Choice and Work Proud Inclusivity Training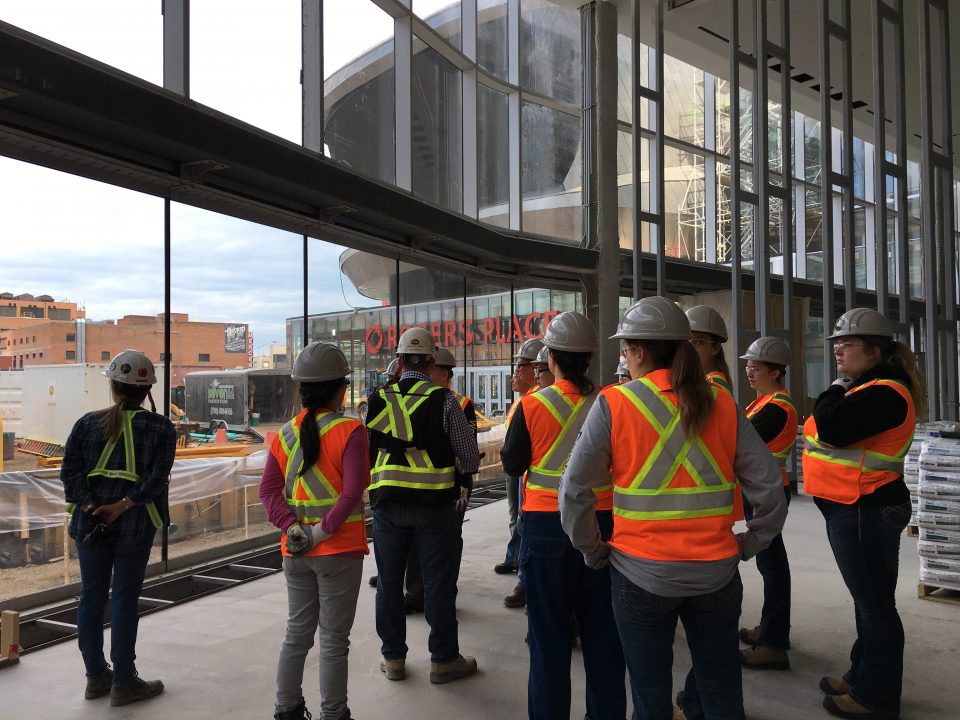 Published On

August 9, 2022
Now more than ever, as Canada recovers from the COVID-19 pandemic, skilled tradespeople are in high demand to fill well-paying jobs and build rewarding careers. The most recent projections estimate about 700,000 skilled tradespeople are expected to retire by 2028, causing an ever-growing need to recruit and train thousands more.
Despite the impending shortage of tradespeople, the number of women employed in the sector account for only 3.9 percent of skilled tradespeople in Canada (Statistics Canada's 2018 Labour Force Survey).
To meet future workforce demands and boost the number of women where they have been traditionally under-represented, companies must create an inclusive and equitable environment in which everyone can flourish and succeed.
"Men and women have different experiences in the workplace. Some of those experiences lead to higher turnover rates for women in the trades and related industries," explains Tara Hoffmeier, Senior Advisor of Employer Engagement at Women Building Futures (WBF). "As companies diversify their workforce, it is paramount that they create and cultivate safe and inclusive work environments first so that employees can be successful in the organization."
Fortunately, companies looking at establishing safe and inclusive workplaces do not have to do it alone: Women Building Futures is supporting industry partners in their journey in cultivating safe workplaces through its Employer of Choice program and Work Proud Inclusivity Training workshops.
For employers to hire WBF graduates and alumni, employers must meet the organization's established Diversity, Equity and Inclusion (DEI) standards to ensure graduates are employed at safe, equitable and inclusive work environments.
"The workplace has direct impact on our graduate's career success, and we have a responsibility to assess workplaces to ensure our graduates can thrive in those environments," says Hoffmeier. "The intent of these programs is to aid in the employment, safety, and career progression of our graduates on worksites where women are traditionally under-represented. This suite of products supports long-term, sustainable cultural change for industry and all workers."
Hoffmeier explains that incorporating inclusivity and diversity in the workplace is "good business" and employer partners can achieve a variety of benefits from enhancing their policies and standards.
"A thoughtful and practical cultural shift toward diversity and inclusion can drive bottom-line profit for an employer by sparking innovation, increasing productivity, reducing turnover, improving safety, increase market share and customer base, and enhance reputation," says Hoffmeier.
Industry partners looking to ascertain their diversity and inclusivity can join the Employer of Choice program, enrol their leadership teams and 'boots on the ground' employees in the Work Proud Inclusivity Training sessions, or both.
Employer of Choice is a paid membership program intended to establish employer partners' commitment to inclusion in the workplace and support their ongoing journey of providing safe and equitable work environments. The goal for this program is to recognize and celebrate employers who are currently prioritizing inclusive, diverse worksites and encourage those employers who have some work to do, to invest in becoming more diverse and inclusive-focused through additional training opportunities.
To become an Employer of Choice member, companies must meet a minimum score on an online self-assessment, which reviews their internal DEI practices in four main value pillars: Health & Safety, Respect & Inclusion, Equity & Gender, and Growth & Advancement. The purpose of the assessment is to provide a prospective employer with a tool to evaluate their company's current operations and commitment to creating and cultivating safe and equitable workplaces.
As an Employer of Choice, companies can attract and hire diverse talent including WBF graduates; showcase their commitment to diversity, equity and inclusion; build sustainable community impact and economic security for women; become a part of a network of top employers; and, access several exclusive member-only benefits including a job board, detailed report and action plan, networking and event opportunities, endorsement, and public recognition, and more.
Companies who do not meet the minimum score on the self-assessment are provided resources to help enhance their DEI policies and practice, and are welcome to reapply in the future.
The Work Proud workshops are designed to provide companies with the insight and tools to create more engaged, safe and inclusive workplaces.
"Work Proud broadens the conversation to include all workers, supervisors, and thought leaders to support a safe, respectful and productive workplace culture that benefits all employees," says Hoffmeier.
There are two types of workshops available:
Building Workplace Success is tailored for leadership and provides tools to support inclusivity strategies and building a culture that encourages and celebrates diversity.
Best Practices for Success is tailored for 'boots on the ground' employees who will work alongside our graduates and will help build an understanding of how everyday actions contribute to an inclusive workplace.
Through these sessions, participants will be able to incorporate concepts, tools and best practices into their everyday work habits that contribute to greater work performances.
"For over 20 years, Women Building Futures has been preparing women for the trades and now through these programs, we are preparing the trades for women," declares Hoffmeier. "When our industry partners achieve their goals, WBF in turn, achieves its mandate to collaborate with our partners to inspire positive economic change for women and forever transform the face of industry."
If your company is interested in becoming an Employer of Choice or participating in a Work Proud workshop, please email eoc@womenbuildingfutures.com.