A Letter to Our Partners: Thank You for Your Continued Support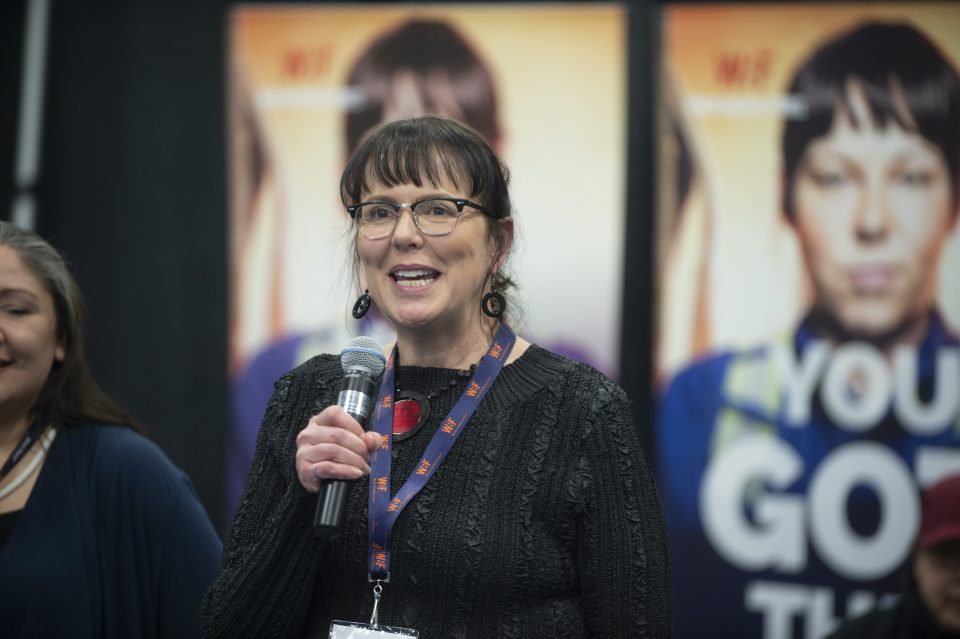 Published On

August 31, 2021
Originally published May 13, 2020
It has been four months since I took on the role of President at Women Building Futures (WBF).  In that time I've witnessed an incredible amount of passion and dedication towards empowering women in our communities. The commitment has grown even stronger as we continue to support women during the pandemic and associated economic downturn.
At WBF, our mission is economic prosperity for women and we do this by removing barriers for underemployed, unemployed women to succeed. We don't' just train, we champion women into careers that support financial independence. We empower women to become economically prosperous through industry recognized training in maintenance and construction related trades and the driving and operating industries. Our skills training programs, along with academic and life coaching workshops and affordable housing help to remove barriers and build confidence.
Since December, I have completed a 90-day plan filled with learning and assessment which ultimately resulted in a business plan. The 2020 business plan was recently endorsed by the WBF Board and the associated work to strengthen organizational planning and delivery was well underway when the Covid-19 crisis hit and changed the world around us. The business plan well positioned WBF to execute on focus priorities while we hit pause on many of our programs.
As a non-profit, we rely on funding from our stakeholders in order to deliver our transformative programs. With many of our upcoming training programs postponed, we've been diligent in managing our fiscal responsibility. As such, we have taken measures to ensure we're operating in a sustainable manner: executing on priority work as it relates to our business plan while maintaining 70% of our team, participating in the Government of Canada's Work Sharing program and limiting expenses wherever possible.
Women in our communities have been disproportionally impacted by this crisis, with many working in the retail and hospitality sectors. As a result, women are expected to experience higher rates of food and economic insecurity, mental health challenges and gender-based violence. Many of our community partners are preparing for increased demand of their services, as women and families begin their journey of recovery. WBF is thankful for these community partners and we continue to be inspired by their important work.
When women are ready and begin looking for opportunity, we want them to know we're here and we're ready to help.
We know when women build confidence and economic stability, the opportunity for families and communities is immense. When we work collectively to remove barriers for women like access to training, affordable housing and affordable childcare, everyone wins. Many of our graduates are the first in their families to buy a home, pay off debt, go on a vacation or sign their kids up for sports. On graduation day, WBF graduates share proud stories of achievement, increased levels of confidence and immense gratitude. Many women share that for the first time in their life they've felt like they've had a community supporting them every step of the way. This is why we show up every day.
Over the coming weeks, WBF will work on a recovery plan with the important perspectives of our industry, community and government partners. This recovery plan will be focused on delivering programs that provide immediate return and value for unemployed women in our province. This plan will explore new and innovative ways to deliver more of our existing programs online and introduce new programs that align with upcoming employment opportunities and provincial recovery strategies.
In the meantime, we will continue our important work in supporting women with foundational academic and life coaching workshops, one-on-one program application guidance and providing resources for women to explore careers in underrepresented industries. We'll support our graduates by reaching out and sharing employment opportunities from our partners. We'll continue to share success stories of our graduates and work alongside our partners to remove barriers for women to succeed. Our community needs us now more than ever.
I am proud to lead this organization and share our story of perseverance and recovery during this unprecedented time in history. In my short time with WBF, I have learned that we have incredibly dedicated partners. I want to extend a heartfelt thank you to our partners for their support and trust, for helping us build and maintain a strong foundation of programs that continue to empower women and strengthen our community. There is no doubt Covid-19 has challenged us all to refocus and in some areas pivot completely to respond and there are many people to thank for stepping up to support in the times of uncertainty: our staff, industry partners, training partners, government partners, donors, our board, and many more.
Thank you for your ongoing commitment to our mission and for believing in our work. We look forward to connecting in the not too distant future and when appropriate welcoming you back to our Edmonton training center.
Sincerely,
Carol Moen